KHITA HMING AN LAM HUN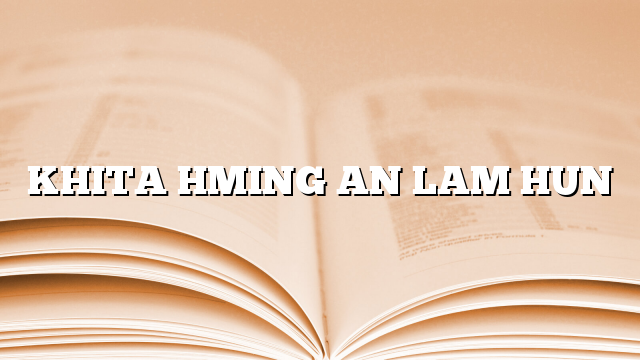 Thupuan 21:27
"Tin, thil bawlhhlawh reng a lut hauh lo vang a, thil tenawm tite leh dawt hmangte pawh an lut hek lo vang; Beram No Nunna Bua hming ziakte chauh an lut ang."
Kum 1982 liam ta khan Methodist Williamsport, PA-a Methodist Kohhranah chuan James Black-a an tih chu sunday school zirtirtu a ni a. Hmeichhe naupang fel tak, "Bessie" an tih hi a awm a; Epworth League-ah chuan Sunday School a kal tha em em a. Superintendent Black-a chuan a hming a lam apiangin a 'awm' ri hi chiang takin a hre thin.
Bessie chu naupang khawngaihthlak tak hi a ni a. An khawsak an harsa em em a, an chhungkaw inrelbawlna a fel loh avangin James Black-a hian a bik takin an kohhran sunday school leh naupang inkhawmnaah a sawm a, chutianga kal ve chauh chu a ni.
Sunday school vawi khat chu hming lam a nihin Bessie 'awm' ri a awm ta hauh lo mai a. A kal atanga vawi khat a awm lohna anih avangin James Black-a chu a hrilhhai hle a. A rilru chuan an chhungkuaah harsatna lian tak a awm anih a ring a, a chhan chu a pa hi zu in thin a ni si a. Thil duhawm lo tak a thleng ang tih hlau tak chung chuan an ban velah Bessie te in lam pan chuan a kal ta nghal a.
Tichuan an in a va thlen chuan a nau duh tak Bessie-i, hmeichhe naupang khawngaihthlak, Sunday school thulh ngai lo, hming lam apianga awm thei zel awm ta lo chu natna khumah thlan tuiin a bual zawr vek chu a zuk hmu ta a. A han thut hnaih deuh a, sunday school kal thei hmel reng a pu lo tih a hmu chiang em em a. Pneumonia rang ber a lo vei reng a ni.
Black-a chuan, nakinah, khita Vana hming an lum hun tur a ngaihtuah a, chuta 'awm' ve thei lo turte khawngaithlak turzia a ngaihtuah te chuan a rilru a khawih em em a. Piano hmaah thutna a rem a, vawiin thlenga kan hla duh em em, Kristian Hla bu No. 239-na, 'When the rolled is called up yonder I'll be there' tih hla hi a phuah ta a ni.
Lui ralah khian leia mi chhandamte an awm khawm hunin Khita hming a lam hunin ka awm phawt ang.