THILPEK HLU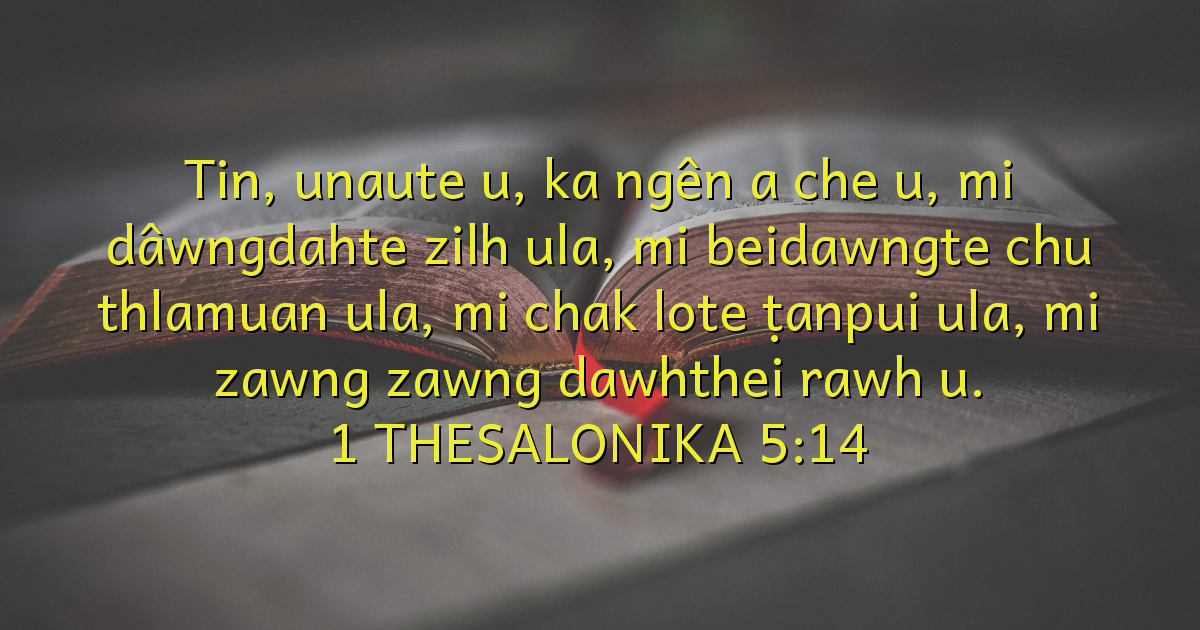 1 THESALONIKA 5:14
Tin, unaute u, ka ngên a che u, mi dâwngdahte zilh ula, mi beidawngte chu thlamuan ula, mi chak lote ṭanpui ula, mi zawng zawng dawhthei rawh u.
Krismas hun a ni a, mitinten thilpêk (present) hlu tak tak an inpe ṭhin a, a man a to emaw to lo emaw a dawngtu tân chuan a lawmawmin a hlu êm êm vek a ni. Chutihrual chuan thilpêk hlu ber kan inpêk theih hi eng nge ni ang le?
Ralph-a chu kum 4 mi a ni a, fapa neih chhun a ni a, a nu leh pa chu sawi loh a pi leh pu, pate-a, nute-i te zawng zawngin an duat rawn a, a duh apiang a nei a, a mamawh loh leh duh loh pawh a nei tho. A room chu naupang lawm zawngin a khat a ni ber. Chu mai a ni lo a, car nalh tak an nei a, an lêng chhuak fo ṭhin a ni.
Zankhat chu a nu leh pain an dan pangngaiin TV an en a, Ralph-a chuan Krismas-a a duh zâwng hrilh tumin biak a tum ṭhin a, mahse a nu leh pa chuan TV Programme pawimawh chhuah zawh-ah tiin an hrilh a, tichuan Ralph-a pawh chuan a nghâk ta mai a.
TV Programme pawimawh a chhuah zawh chuan a nu leh pa chuan, eng nge a duh an zâwt a? Thil tam tak a neih avangin a duh zâwng chu thil tam a nih pawh an ring lo a.
Ralph-a chuan, "In awm loh laia ka lenna ṭhin thingker thiam a pu nen khan kan inkawmngeih êm êm a, amah pui turin thing nawi la tur te'n min ti ṭhin a, kan tih zawh chuan chhûnah thingpuite kan in a, tichuan thawnthu min hrilh a, kan infiam ṭhin. Naktûkah pawh bawngchaw pêkna thleng kan siam dawn a, tuboh ṭha tak a mamawh em em a, pêk ka duh a, a chhan chu ka tân hun tam tak a hmang ṭhin a" a ti a.
Ralph-a nu leh pa chu ngawi rengin an in en a, an fapa chuan sum tam takin a lei theih loh thilpêk a phût tih an hrethiam nghal a. Chu chu 'hun' a ni.
Kan fa te, kan nu leh pa te, kan pi leh pu te, kan u leh naute tan hun pêk ve hi, Kohhran, khawtlâng leh pâwl hrang hranga kan inhmang anih pawhin a pawimawh hlê tih hriat a ṭha e.